Our Short Term Trading Strategy looks for stocks breaking out of a favorable chart pattern such as the, "Cup and Handle", "Double Bottom" or "Flat Base". Our goal is to make at least one point in every trade. Every trade is exited two days after the initial entry unless one point is made or we are stopped out of the trade for a loss of one point.
An example of a recent stock pick which provided an favorable short term trade was NTES. NTES formed a Cup and Handle pattern and then broke out of its Handle (H) in mid September.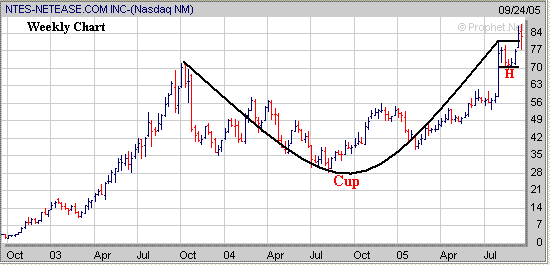 On a short term basis we are looking to only hold the position for a day or two and then take our profits. A daily chart of NTES is shown below as NTES broke above its Handle on 9/12/05 with the entry price of 81.50. In this example NTES followed through an profits were taken on 9/13/05 at 85.50 for a net gain of 4 points.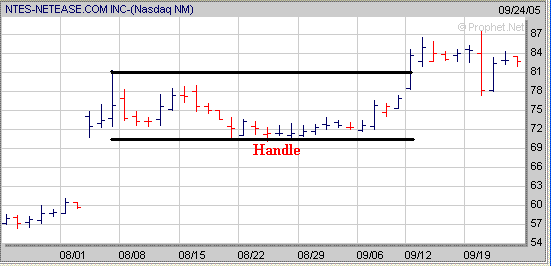 2005 Short Term Trading Performance

# of Hypothetical Positions : 78
# of Winning or Breakeven Positions: 65 (83%)
# of Stop Loss Positions: 13 (17%)
Click here for a complete list of every stock pick listed in 2005
involving our Short Term Strategy
Short Term Performance vs Major Averages
(1/1/05-9/23/05)
| | |
| --- | --- |
| Amateur Investors +47.0% | |
| Dow -3.4% | |
| Nasdaq -2.7% | |
| S&P 500 +0.3% | |
A Premium Membership includes our Stocks to Watch List which provides a list of Stocks that are exhibiting favorable Chart Patterns along with specific Buy and Stop Loss Prices in addition to Target Prices.
Also you will receive our Daily Breakout Report by email which Alerts you to Stock Picks that are breaking out of a favorable Chart Pattern from our Stocks to Watch List.
Signup Today for a "Free" Trial Membership
and see which Stocks to Buy in 2006

We offer two options to sign up:
All Trial and Regular Memberships are on a renewal basis so please email us to cancel your Membership before it renews as they "aren't refundable".
By becoming a Member of Amateur-Investors.Com you acknowledge that you have read the Billing Policy, Disclaimer and Terms of Use Policy and agree to these terms.