Social Security is in Big Trouble
Current trends in Social Security Receipts, Social Security Expenditures and Social Security Assets suggest the Social Security Trust Fund (SSTF) will be broke by 2028 or 2029. In fact it could be even sooner if Social Security Payouts are increased in the next couple of years.
The chart below shows the Social Security Trust Fund (red line) will peak in 2015 or 2016 and then begin to see an acceleration of decreasing assets by 2020. This is due to the projected increase in Expenditures (green line) which will exceed Receipts (blue line) by a substantial amount as we move into the 2020's. Thus based on current trends the SSTF will go negative by 2028 or 2029 if not sooner. In fact it wouldn't be a total surprise that the Trust Fund will be insolvent by 2025. Keep in mind based on current law when the SSTF is broke then Social Security Payouts have to be cut by 25%. So far nobody in Congress wants to address this issue however in the next 5 years it's going to become a huge issue which will likely affect future elections.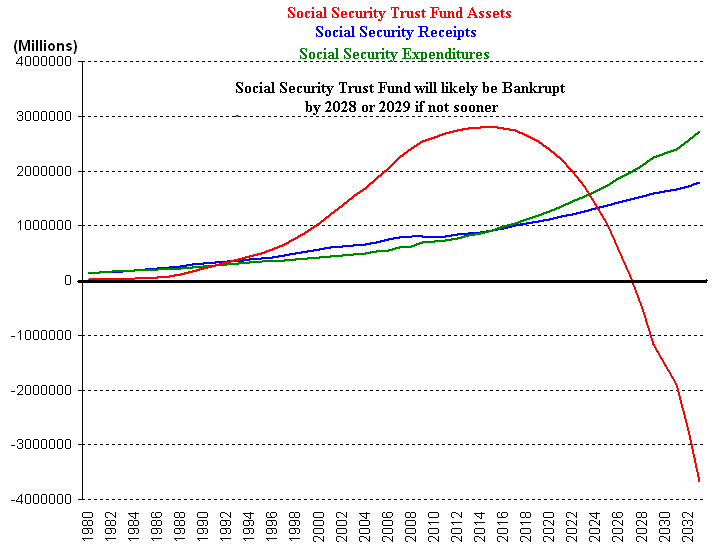 Signup for a Premium Membership and have access to our Daily ETF Signals, 401K/TSP Signals and Market Timing Indicator (MTI). For those that like to Short we also a maintain a small list of ETF's to short as well.
Also you will receive our Daily Breakout Report by email which Alerts you to Short Term Buy and Sell Signals in the ETF's.
Our Membership Special for new Members is shown below
which are 50% Off our normal Monthly Rate of $39.95
Membership Plans

Initial 50% Off
Introductory Rate

30 Day Trial Membership

FREE
Monthly Membership
$19.95
6 Month Membership
$119.95
We offer these options to sign up for our 50% Membership Special
or "Free" 30 Day Trial Membership:
All Trial and Regular Memberships are on a renewal basis so please email us to cancel your Membership before it renews as they "aren't refundable".
After the Introductory Period expires Memberships will automatically renew at our normal Monthly Discounted Rate of $21.95.
By becoming a Member of Amateur-Investors.Com you acknowledge that you have read the Billing Policy, Disclaimer and Terms of Use Policy and agree to these terms.